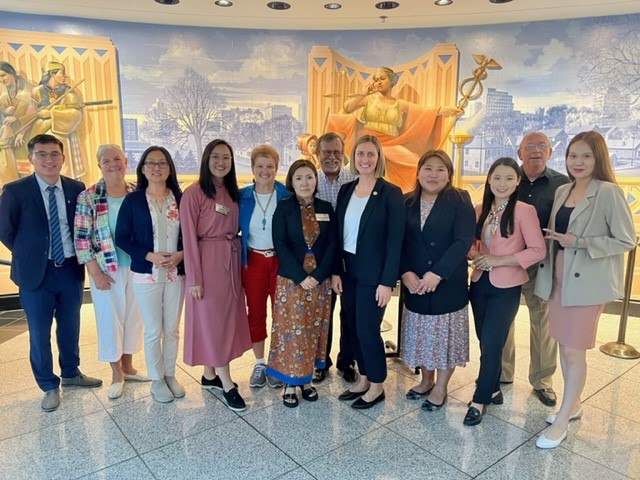 Lansing, Kansas — The Congressional Office for International Leadership (formerly known as the Open World Leadership Center), an agency of the U.S. Congress, will send a delegation of Mongolian Court Professionals to Lansing, Kansas from July 15th to 23rd, 2022. The delegation consists of five legal professionals and will be accompanied by a bilingual facilitator and an interpreter. While in Lansing, the Open World program participants will be hosted by the Kiwanis Club of Lansing.
Prior to their arrival in Lansing the Delegates completed an orientation in Washington, D.C. Delegates had policy meetings with Members of Congress.
The delegation of five includes senior staff in the Mongolian judicial system.  Delegates are: Ms. Enkhjin Ganpurev, Ms. Grasetseg Erkhembayar, Mr. Radnaabazar Altangerel, Ms. Tuvatseseg Tserendagva, and Ms. Tumembadam Dagva.  The group is accompanied by Facilitator Nomin Enkhabaatar, Political Assistant to the US Embassy Mongolia.
In Lansing, delegates will collaborate with various Local, City, State and Federal officials on best practices for the Judicial Rule of Law.  Delegates will meet with Chief Judge Eric Melgren and his staff of the US District Court Kansas, Chief Justice Marla Luckert and staff of the Kansas Supreme Court, Leavenworth Sheriff Andrew Dedeke and tour the Criminal Justice Center, University of Kansas School of Law and local leaders.
Local cultural activities include attending Monarchs professional baseball and women's professional soccer games, visit the Harry S. Truman Library The delegation will stay in the homes of residents of Lansing and Leavenworth who serve as hospitality hosts.
More than 30,000 current and future leaders from post-Soviet era countries have participated in the Open World program. Open World offers one of the most effective U.S. exchange programs to promote mutually beneficial options for depolarized engagement between future national leaders. It is a unique but no less powerful tool for Congress to engage legislatures in critical regions of the world.
The Lansing Kiwanis Club in Lansing, Kansas is a chapter of Kiwanis International.  Kiwanis International is an international service club founded in 1915 in Detroit, Michigan. It is headquartered in Indianapolis, Indiana, United States, and is found in more than 80 nations and geographic areas.  Kiwanis International and its partner clubs worldwide are dedicated to helping kids around the world, one community at a time.
The Lansing Kiwanis Club is approximately 20 years old with dedicated members from the Lansing/Leavenworth community in northeast Kansas in the Kansas City metropolitan area.  Service projects include supporting the elementary education with the "Bringing Up Grades" program, participating in local school activities such as fall festivals and Christmas events and raising money for local civic organizations and programs through pancake feeds and other fund raisers.  A signature program is the collection of donated foot at a local food market on the third Saturday of each month, collecting an average of 700 lbs. of food that is distributed by four local food banks.
COIL, a Support Agency of the Congress
Founded in 1999 by Congress, the Congressional Office for International Leadership (formerly known as the Open World Leadership Center) maintains a vast network of more than 30,000 alumni in strategic countries including Russia, Ukraine, and others in the Balkans, Caucasus, Central Asia and Eastern Europe. It's Open World program supports legislative diplomacy efforts for Members of Congress by conducting exchanges that establish authentic communication and enduring relations that are maintained through its extensive alumni network. Program participants are provided with exposure to the work of Congress, American politics, accountable governance, and volunteerism while being home hosted by American families. To learn more about the Open World program, please visit www.openworld.gov/